Satellite event on regulatory challenges
associated with in vitro diagnostic & medical device product development
Wednesday afternoon, 28th of October 2020
energypolis CAMPUS HES-SO Valais |Sion, Switzerland
In addition to the Symposium in Point-of-Care Diagnostics, you have the opportunity to attend a half-day highly relevant satellite symposium focused on the regulatory challenges associated with in vitro diagnostic (IVD) and medical device product development.
The introduction of the new In Vitro Diagnostic Regulation (2017/746 EU) represents a major challenge for startups as well as established companies. Certification of new IVD products or re-certification of existing products will require major efforts placed in the Technical documentation and Clinical Evidence.
The symposium will cover specifically:
Expert from Medidee Services giving an overview of IVD regulatory environment.
Expert from Medidee Services discussing the issues of device software and smartphone apps used for diagnostic purpose.
Representative from Notified Bodies sharing updates related to the assessment of the Technical Documentation, in particular Clinical Evidence.
Representative from Competent Authority sharing his vision on the implementation of IVDR.
A round table discussion will be organized with experts and representatives from the Medtech industry, discussing the issues associated with the implementation of the new regulation. The audience will have the opportunity to ask direct questions to the panel.
The satellite symposium is a useful complement to the Swiss Symposium in Point-of-Care Diagnostics and is targeting MedTech RA/QA/CA professionals, MedTech innovating start-ups, and academics willing to get insights on preparing a smart transition to IVDR.
You are able to specifically register for this event or in combination with the Symposium main event.
Program will be soon published.
Venue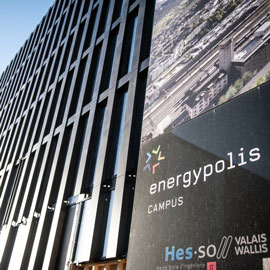 At the new HES-SO Valais Campus (openning September 2020)
Campus energypolis HES-SO Valais
Route de l'industrie 21
1950 Sion
Switzerland
Access
Estimated travel time by train to Visp: 35min from Brig, 30min from Visp, 1h30 from Bern, 2h30 from Basel or Zuerich, 1h45 from Geneva, 3h45 from St-Gall, 4h00 from Chur and 4h30 from Lugano. The campus energypolis is a 5 minute walk from the train station.
By car to Sion: via the A9 highway from Geneva or Lausanne. Via the BLS Lötschberg car transport from Bern, Basel and Zuerich. If they are still open, you may come from Ticino via the Nufenen Pass or from Graubünden via Oberalp and Furka Pass. No parking slots are available directly at the campus, however, there is parking available in the city of Sion at La Planta and Du Scex.
More information on the campus energypolis HES-SO Valais website: www.hevs.ch and on the campus energypolis website: www.energypolis.ch.